Return
Circuit of Catalonia in Montmelo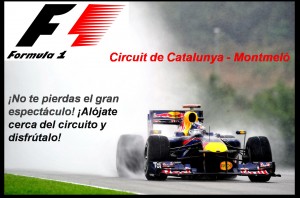 ref:3495
Do not miss the great show!
Location:
Barcelona Vallès Oriental - Montmeló
Contact
Print gift
The Catalonia Circuit is one of the latest tracks that are eligible to receive the most important motor racing competitions. Opened in 1991, has three different routes: the Grand Prix circuit, is 4,727 meters long. National Circuit, 3,067 m. and the School Circuit, 1703 m.

Activities carried out in the facilities of the Catalonia Circuit:
Visits: Restricted areas such as the paddock, the control tower and the podium and press briefing rooms can be visited with guided tours program that organizes the Circuit.
Competitions: The fixture of Catalonia Circuit includes several competitions of the championships in Catalonia and Spanish Motorcycling or Car, the two tests in Barcelona and 24 Hours of Motorcycling, the Spanish Grand Prix F-1 and Catalonia Motorcycle Grand Prix.
Laboratory of important competitions: Regarded as a highly technical and selective track, the Catalonia Circuit provides valuable information for engineers and equipment to the tune of cars and motorcycles by riders.
Track: Throughout the year the Tour of Catalonia offers the world of motoring enthusiasts the chance to be featured in the track.
Incentive days: The Circuit organizes various activities for groups of businesses, racing quads, 4X4 circuit and helicopter flights, among others.
Presentations and conferences: The set of installed equipment • Circuit of Catalonia offers a unique activity for any public relations, social and commercial.
RACC-Renault: Safe Driving School located at the Circuit.
RACC Formula Renault at the Circuit de Catalonia: Formula Driving School located at the Circuit